United MedTec Holding
European medtech specialist becomes part of stock listed industrial group
Sale of a leading European medical technology company: DZ BANK advises on the sale of United MedTec Holding
DZ BANK advises the shareholders of United MedTec Holding including its subsidiaries W. Krömker GmbH and Tragfreund GmbH on the sale to GESCO AG

UMT is a developer and manufacturer of innovative support and suspension arm systems, trollies and fixing systems for the application in medical technology environments. Founded in 1976 and located in Bückeburg, Lower Saxony, UMT's products are customized to individual requirements and mainly serve life-critical environments including intensive care units and operating rooms. The company supplies its products through the two established brands Krömker and Tragfreund to customers worldwide, which mainly include large medtech OEMs. During the COVID-19 pandemic, UMT recorded strong growth across all product lines and was able to establish new customer relationships.

GESCO is a listed German industrial group investing in market and technology leading companies and specialized in the development of industrial "hidden champions". GESCO is already operating in the market for suspension arm systems and trollies through its portfolio company HASEKE and will enable UMT to leverage a broad range of synergy potential and expand its international customer and product portfolio. The acquisition by GESCO completes the commitment of the two majority shareholders VR Equitypartner and INVICTO, who acquired UMT in 2012 as part of a succession solution and had successfully developed the company in recent years together with the management team. These efforts include the development and market launch of new product systems such as the SKYDOQ® series, an innovative, multi-patented and award-winning support arm system for demanding clinical use. The current management team will continue to lead the newly established group of companies going forward and will continue the growth trajectory.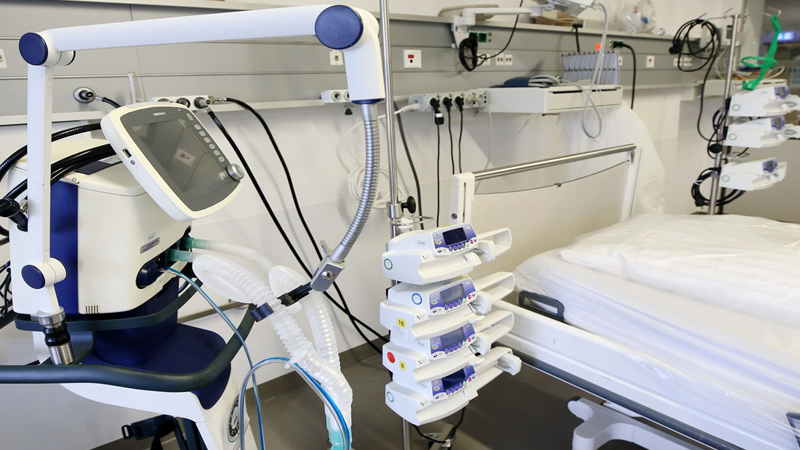 Operating table manufactured by Krömker for neurosurgical procedures
Intensive care ventilation solution with Krömker support arm
With the DZ BANK Corporate Finance team, we had a committed and very competent partner on our side. Due to the proven expertise in the field of medical technology, we succeeded in finding a suitable investor for United MedTec Holding GmbH in GESCO AG within a very short period of time. Through a stringent process management, a solution-oriented and trust based collaboration the international bidding process has been completed within six months. We look forward entering into the next growth phase together with GESCO AG.
Further transactions